OUR MISSION IS TO EMPOWER, EDUCATE, AND SUPPORT INDIVIDUALS WHO ARE REAWAKENING THEIR TRUE SELVES. TO BRING ABOUT THE NEW PARADIGM IN THE KITCHEN AND THE WAY WE CONSUME.
Through working with the natural kingdom by creating real food from fresh organic elements combined with intelligent movement & breath, we are led to the ultimate lifestyle where we begin to remember our place in the world. We are the custodians of this land and the bounty is for us to enjoy sustainably. This is what the Raw Living Foods / Plant Based Vegan movement means for us.
Who Are The Seeds Of Life?
Welcome to the Seeds of Life, where the focus is to support the reawakening of our true-self through creating the ultimate lifestyle. Activate your fullest potential via the very act of innerstanding what it means to truly live. This is happening, now, and you are a part of it.
We combine the elements of fun, flavor, vibrancy and integrity through raw living foods, yoga and holographic kinetics which is an omnipotent healing modality that exceeds all levels of what a holistic approach to understanding what this game of life is all about and what it means to be truly free. I speak from my own personal, transformational experience and hope to share it with you.
We offer our service to you by combining over 25 years experience in the healing arts and food world, working in many different capacities providing raw vegan chef training, our raw food cafe & Taoist tonic bar, retreat chefs for your event and various workshops. Our strengths have been built on the foundations of  raw chef certification training, yoga retreats and yoga teacher training, high end and exclusive functions, intimate dining experiences, workshops, menu consulting and staff training for many of the world's great leaders and teachers in their respective fields. Also, working with the innovative people operating 'behind the scenes' who are facilitating great change.
Who Are The Seeds Of Life?
Raw food and veganism have quickly become the latest buzz words and the most popular health trends on google. Why? What is it about our collective consciousness that has given rise to this movement right now? Well it seems some of us are not thriving, or more simply, many of us are looking for the edge in life to be the grand creators of our greatest dreams. As we look into the many ways of reaching our fullest potential, it makes sense that before we make huge investments and changes our lives, we take a closer look at improving the things we are already doing every day. I know I eat every day, and if you do too then maybe it's time for us to embrace the advancements in technology and look closer into what is means to "EAT". This gives rise to our fully vegan raw food cafe and Taoist tonic bar in Ubud, Bali. This is where we serve real food, approachable by everyone, and we are busy! People are rising to the occasion. They want their health back, they want a life. People are voting with their feet!
Just typing in 'Raw Food' on Google, opens up for us a plethora of information and an abundance of different explanations and experiences on the definition of raw foods. Quite simply, living bodies need living foods to thrive. Do you want to THRIVE?! We did, but we didn't want to be sentenced to a life of lettuce, carrot sticks and hummus. So we educated ourselves and did some training (which we are passionate about sharing with you) and the world has never looked the same again since, and for the better!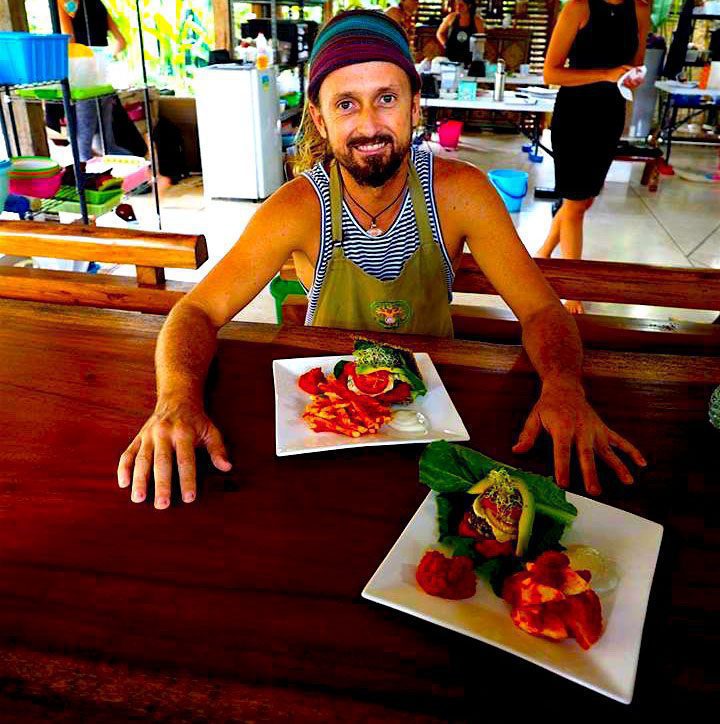 Ben Richards
Head chef, owner and founder of The Seeds of Life Cafe and Taoist Tonic Bar and creator of The Raw Food Academy in Ubud, Bali.
I've been living the raw food lifestyle to the fullest for over 8 years, completing over 50 fasts and vision quests from 1 day to 30 days, student of life, educator, holographic kinetics facilitator, body worker, practicing yogi, raw chocolatier, Taoist tonic herbalist, certified tea master and certified in whole food plant based nutrition at E-Cornell University.
 I am squeezing as much nectar from life as I can with every breath. These are some of my current passions and tools that I see fit to educate others with on their practical application to culinary and life experience. It is all connected.
Taoist Tonic Herbs Part 1
Taoist Tonic Herbs Part 2
"After being apart of the Raw Food Chef Training, my world has opened up in front of me. What an inspiration! A special thanks to Ben's words of wisdom and bountiful, what seems like endless knowledge."
"Ben has a mountain of knowledge to share that could be life changing for many. His passion for what he teaches is so highly contagious he gets me excited about whatever he is teaching. He truly lives and breathes his teaching which raises the bar and makes it an honor to work with and learn from him. And oh yeah, his raw chocolate is the best I ever had!"
"Ben is an incredible high-energy vibrant individual" Ben makes the intangible tangible, making abstract nutrition, health, and spiritual concepts surprisingly easy to understand. He brings together an immense background of knowledge and experience in the fields of raw food nutrition, Taoist tonic herbalism, and Holographic Kinetics. His greatest strength, however, is his innate ability to understand every individual he comes into contact with on a deep level, allowing him to help each person in the way that is best suited to his or her entire life situation. I can say firsthand that his culinary creations are creative and delicious, he is a powerful and effective educator, and his Holographic Kinetics healing is the most deeply powerful modality I have experienced in my life. If you have the opportunity to experience a retreat, workshop, or training with this spectacular team, go for it! It will leave you satisfied, impressed, enlightened, and inspired!"
"I had the fortunate opportunity to be initiated into the raw food lifestyle by Ben. Ben became one of my top favorite teachers of all time. I say this because he is extremely knowledgeable in everything raw yet humble to keep expanding his own education through his students. Extremely approachable, friendly, and effective teaching techniques. I was a bit apprehensive as to who I was investing my time and money, let alone flying around the world to learn from. Luckily at the onset of meeting Ben, I was instantly excited to learn from him. Go seeds of Life!!"