Seeds of Life Raw Food Chef Certification
Raw Food Chef Training
Learn the Art & Science of Raw Living Lifestyle in our Two-week immersive Raw Food Chef Certification Training
Raw Food Chef Certification
This year as Bali is slowly re-opening we are doingour next Raw Chef Training in December with our ascension Fasting and Detox Retreat and Training directly after.    
Dates are:
December 18th 2023 -1st January 2024
And June and December 2024
Stay tuned on our instagram @seedsoflifebali
Ascension Fasting Detox & Retreat
Learn How To Cleanse Your Body without Creating Harm in our one-week immersive Ascension Fasting & Detox Training/Retreat
Ascension Fasting & Detox Retreat
Following our Raw Food Chef Trainings, our fasting and detox trainings have become really popular for students who attend our Raw Chef Trainings as fasting is an integral piece in the Raw Vegan lifestyle, also people wanting to be supported while fasting and others who are trying to overcome health situations.


Our price for the Ascension Fasting is usd$1809 includes shared accommodation or usd$2800 single room. The . If you do both our trainings we offer a 10% discount of both trainings.
We are not offering a discounted rate for those wanting to stay offsite because we want to monitor our students and guests and also you will feel more supported.
Learn to Make Living Foods in the Heart of Bali
At our Raw Food Cafe & Raw Food Chef Certification Training in Ubud, Bali, our organic produce is grown on the side of an active volcano, picked the day we order and delivered the next morning. Working with this level of freshness inspires the imagination and the taste buds and is truly a unique offering the world over. The Balinese family that grows and supplies our produce likes, comments and shares our posts on social media. This 'Farm to Table to Social Media' connection adds a dimension to our final presentation that is palpable. Proud people with love in their hearts for the whole cycle.
Check out our raw restaurant in Ubud here http://www.theseedsoflifecafe.com
For those who like to visualize and feel..
Check out what happens at our raw food chef training!
What You Will Learn To Create
Living foods are raw foods
meaning they have not been cooked in any way, and still have all the natural enzymes within them. Preparing and maintaining food at or below 48 degrees centigrade (118 degrees Fahrenheit) preserves the inherent life-force and information/nutrition within the foods. It is within the distilled and structured waters of the plants we find the most effective sources of energy and information. There are many subtle energies within nature and the foods we eat that are sensitive to preparation. Of course, there are some elements that can handle being prepared above these temperatures but the most beneficial are the subtle and more delicate forces in nature. This knowledge is the foundation of our Raw Food Chef Certifications Training here on Bali and our philosophy of food preparation.
It was Rudolf Steiner that said  ~ "In order to grasp the nature of the curative process it is most important, as it seems to me, to deal with the question of the comparative value of prepared, i.e., cooked food and food in its raw state. Again I must ask you — and on this theme most especially — not to take me for an agitator, either for or against either method! But we must examine, in a perfectly unbiased manner, the actual facts of the case. If people eat cooked and prepared food, and assimilate the forces left within it, they are externally performing an office which must be performed by the organism itself in the case of raw food" 
"But in the tract marked here lies the contradiction contained in the fact that man, in digestion and in the allied functions, separates himself from the general world process — and the same is true for the complementary process of thinking and vision, where he once more individualizes himself. This is why man tends to display, as it were, obstinate individual requirements in all things appertaining to digestion; and this instinctive self-assertion shows itself in the habit of cooking [i.e., changing] the raw materials of our food".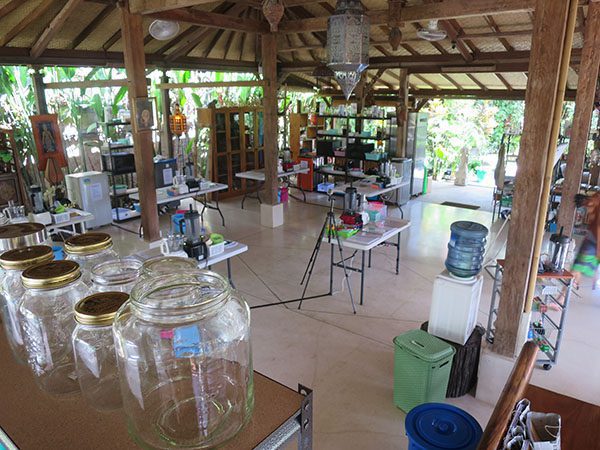 Our training kitchen. We use the best equipment available on the market. A Vitamix and/or Blend-Tec on every station, Excalibur dehydrators and so on.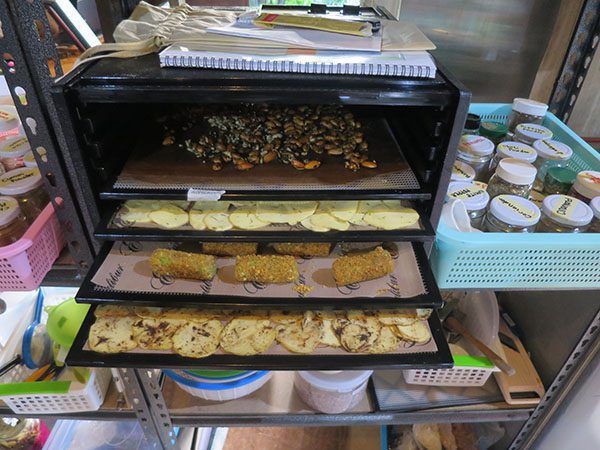 Raw Foods are not necessarily 'cold' foods. We will expound upon the diversity of the dehydrators and warrant your investment in good equipment.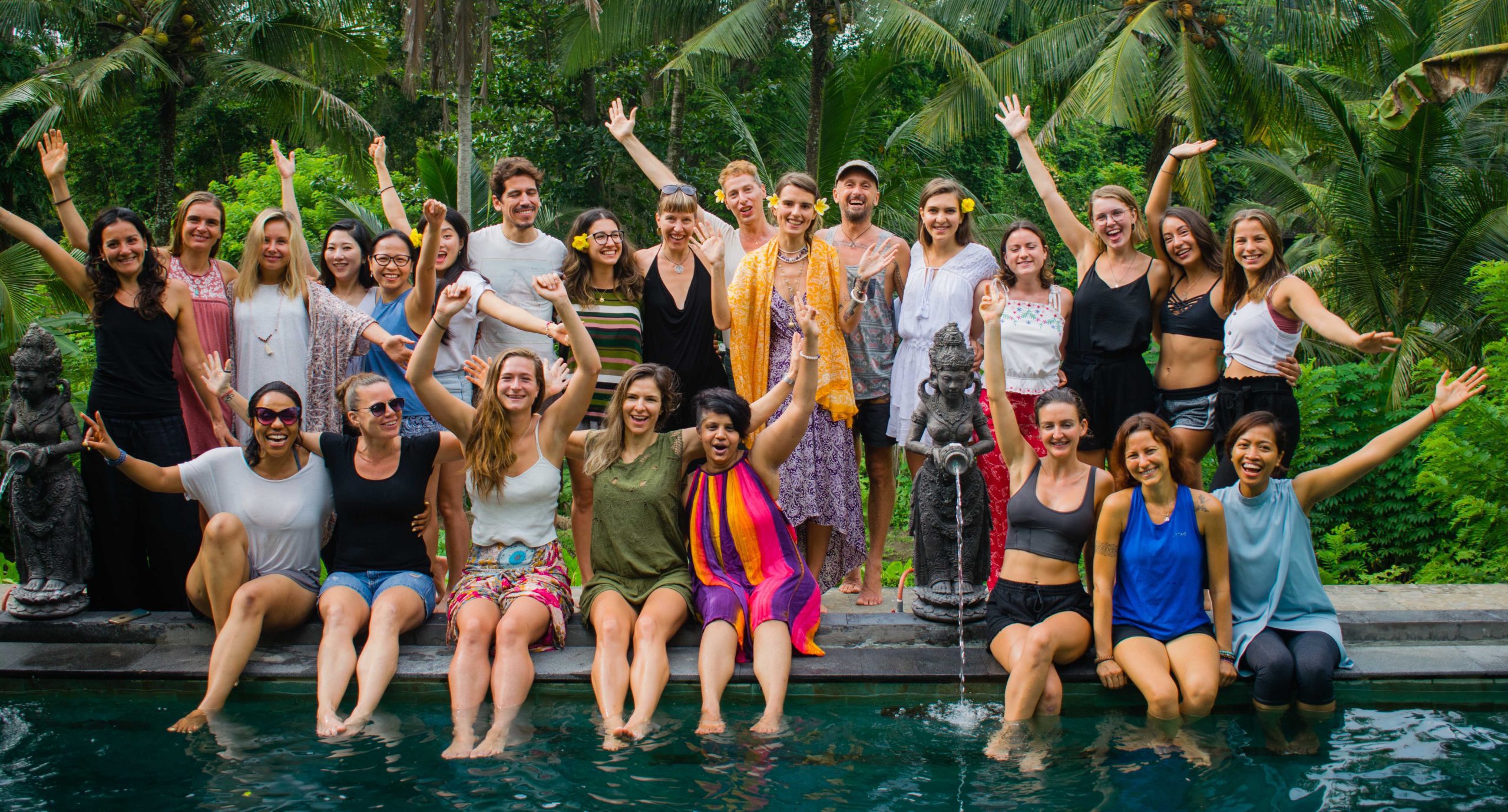 Probably the most nourishing element of our Raw Vegan Chef Certification Training are the connections we make with each other. When you are surrounded with 20 other like minded people who speak your language for 2 weeks, magic happens.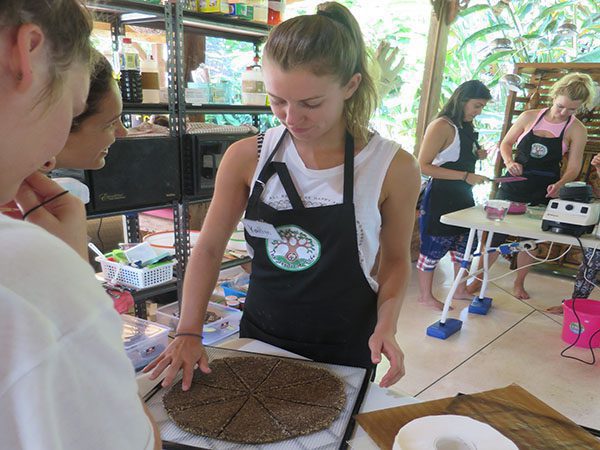 The potential of what you can create is limited only to your imagination. When you succeed at finalising that recipe and it turns out the way you imagined, the elements start coming together. The confidence arises within you then you take that to the next level. We are always blown away by those who come to us without much confidence in the kitchen and really turn that around with what they can create given a few tips and encouragement.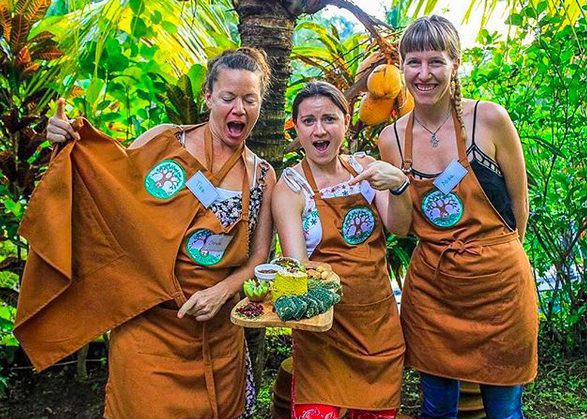 The great thing about working with freshly picked, organic elements is that we don't need to add a great deal of seasoning. We are working with the inherent nutrients which are the actual flavours. So combining flavours, colours and ingredients to bring about an end result is not only simple, but seasonal. We will show you the difference between in season flavours and out of season flavours and how recipes will change accordingly. Many subtleties in the kitchen keep our minds open to the changes in seasons.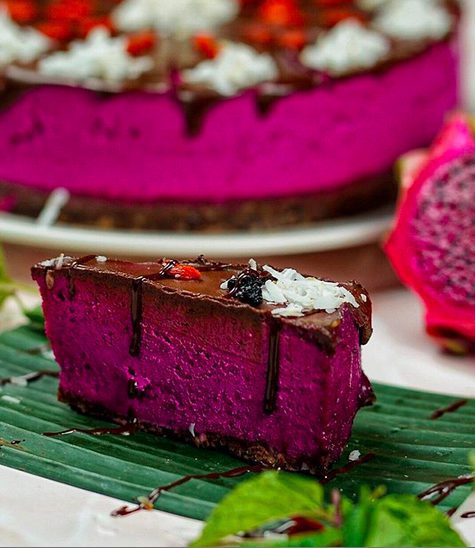 Raw Vegan Desserts. The front door to the realm of high vibe guilt free sweetness. Sugar free, gluten free, and we also teach nut free to meet anyone where they are at with dietary challenges.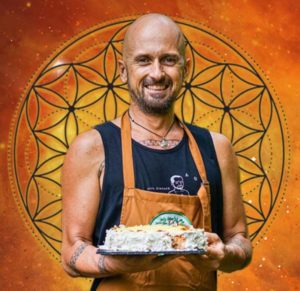 "The subtle energy of our food, becomes the subtle energy of our mind"
~ the Upanishads…
Beaming with biophotons! Come and learn with me the techniques, science and secrets of making living raw foods successful. This is my life, my passion and what I live for. I've been thriving with this way of life for more than 11 years and have learned the successes around making it fun, practical, professional and tasty and cannot wait to share it with you. I also have a very successful Raw Food Cafe & Taoist Tonic Bar in Ubud, Bali, with an Ashtanga Yoga studio. I am really happy to share with you the business concepts behind the scenes, as well.
Lettuce turnip the beet
Seeds of Life Raw Chef Certifications Held So Far
Taoist Tonic Herbs Part 1
Taoist Tonic Herbs Part 2
"After being apart of the Raw Food Chef Training, my world has opened up in front of me. What an inspiration! A special thanks to Ben's words of wisdom and bountiful, what seems like endless knowledge."
"Ben has a mountain of knowledge to share that could be life changing for many. His passion for what he teaches is so highly contagious he gets me excited about whatever he is teaching. He truly lives and breathes his teaching which raises the bar and makes it an honor to work with and learn from him. And oh yeah, his raw chocolate is the best I ever had!"
"Ben is an incredible high-energy vibrant individual" Ben makes the intangible tangible, making abstract nutrition, health, and spiritual concepts surprisingly easy to understand. He brings together an immense background of knowledge and experience in the fields of raw food nutrition, Taoist tonic herbalism, and Holographic Kinetics. His greatest strength, however, is his innate ability to understand every individual he comes into contact with on a deep level, allowing him to help each person in the way that is best suited to his or her entire life situation. I can say firsthand that his culinary creations are creative and delicious, he is a powerful and effective educator, and his Holographic Kinetics healing is the most deeply powerful modality I have experienced in my life. If you have the opportunity to experience a retreat, workshop, or training with this spectacular team, go for it! It will leave you satisfied, impressed, enlightened, and inspired!"
"I had the fortunate opportunity to be initiated into the raw food lifestyle by Ben. Ben became one of my top favorite teachers of all time. I say this because he is extremely knowledgeable in everything raw yet humble to keep expanding his own education through his students. Extremely approachable, friendly, and effective teaching techniques. I was a bit apprehensive as to who I was investing my time and money, let alone flying around the world to learn from. Luckily at the onset of meeting Ben, I was instantly excited to learn from him. Go seeds of Life!!"