Welcome to the Seeds of Life
Raw Food Chef Certification & Trainings Bali Info Page
Join Us For Our Next Course!
Dates for 2019 – June 2nd -16th June, 16-30 September 2019, 18 December – 1 January 2020
Sign up for the newsletter to stay dialed in.
Our Raw Food Chef Certification & Training takes place on the tropical island of the Gods and Goddesses, Bali. The abundance of organic tropical fruits and veggie's simply makes Bali the perfect training ground. Your creative mind and noble body will be left nourished, activated and inspired. Whether you want to open a Café, expand your existing chef skills and add a few raw food items to your existing menu or just to prepare healthful meals at home for your family and friends, we will meet where you are at.
You will be professionally and intimately taught raw combinations and variations of many of your favorite dishes and desserts, accompanied by the nutritional benefits and what you can do at home using your local produce empowering you to keep going. You'll become competent at using all the necessary Raw Food kitchen tools for preparing these delights as part of your hands on training as you gain confidence and understanding of the Raw Living Foods Kitchen. Join us for your Raw Food Chef Certification & Training courses here in Bali.
We will meet your experience level where you are at. All welcome.
What You Will Learn at Our Raw Food Chef Certification & Trainings

Produce identification

Food and personal hygiene in the kitchen

The raw food kitchen pantry and its equipment

Flavor balancing; how to taste food correctly, create beautiful flavors




using these simple guidelines and how to correct little mistakes by over flavoring

Dairy free alternatives, butters, milks, cheeses, creams and yoghurts

Fermentation, pickles, kombucha, kimchi, sauerkraut

Sprouting

Low G.I and sugar free alternatives
The art of raw desserts

Chocolate alchemy

Superfood nutrition and practical application

Dehydration techniques

Continued knife skills

Practical business tips and advice to apply to your café/restaurant

Introduction to Taoist tonic herbalism

Nutritional lectures daily on metabolism, protein, micro/macro nutrients, enzyme nutrition, oils and fats, acid and alkaline balance etc.

How to cater for large numbers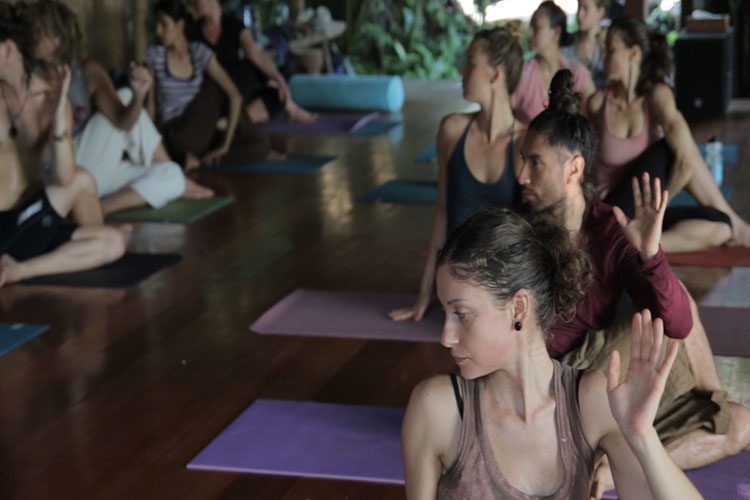 Yoga : Pranayama, Mediation and Gentle Asana Practice
Juice Break
Smoothies and Fruits
Hands on Classes and Making Brunch
Brunch
Nutritional lectures
Hands on Classes – Making Dinner Items and Desserts
Dinner
Discussion, Documentary etc
Our Students in Action
Students 8
Ben
2017-02-02T19:20:35+00:00
Extra Activities Included in Training Price
Trip to Local Spirulina Farm
1 Day Off to Explore
2-16 June 2019
$2999USD for Share Room
$3799USD for Single Room Occupy
Cancellation Policy:
Places can be held only by paying the total amount.
Refund applies as follows;
More than 8 weeks before the start of the retreat: 100% refund less the 10% handling fee.
4 to 8 weeks before the start of the retreat: 50% refund less the 10% handling fee.
Up to 4 weeks before the start of the retreat: no refund will be given. Refund for flights not included.
Check in at 15:00 on the first day. Please come at 17:00 for the welcome meeting.
Check out at 11:00 on the last day
We will be happy assist you to arrange your accommodation if you wish to extend your stay in Bali.
We are happy to arrange the taxi to pick you up from the airport if you are arriving on the day of checking in.
Please send your flight information to Ben: ben@theseedsoflife.net
If you want to make your own way to the Villa, it is easily accessible by your own and is located 15 minutes drive from Ubud centre. Let us know and we will send you the directions.
We accept no liability for loss, damage, injury or illness, which may occur during the retreat. All students are strongly recommended to have their own travel insurance to cover any loss or injury, including repatriation if necessary.
Taoist Tonic Herbs Part 1
Taoist Tonic Herbs Part 2